Beat the recession! This resume writing course teaches the secrets that will get you hired - even in a down economy.
Do you keep writing and rewriting it without really knowing what will work?

Do you sometimes feel as though you're sending it into a black hole every time you apply for a job?

Do you feel defeated by this economic downturn?
If you answered yes to any of these questions, I know how you feel. Looking for a job is hard enough in good times, but when the economy takes a nosedive, it gets even more challenging.
But the good news is that you can give yourself a clear advantage if your resume is designed to appeal to recruiters and hiring managers.
My name is Louise Fletcher. I'm a professional resume writer and the owner of Blue Sky Resumes (google me for more info).
During an average week, I see a lot of resumes and there's one common denominator ... over 95% of them are ineffective.
Now I know this is a sales page, and of course I'm hoping that you buy my self-stufy resume writing course, but even if you don't I really want you to understand and internalize this next point:
The recession isn't the only reason that you are not getting results. Your resume is just as much to blame.
True Fact: Your Resume is Worse Than You Think!
I hear all the time from people who took my course and transformed their lives as a result. They are shocked at the difference, because they thought their own resume was actually pretty good to start off with.
But when they apply my resume writing secrets to their own resume, they immediately see the difference.
If you decide not to buy my course that's OK - buy someone else's course or book, or take a class at the local library. Just do something to not be one of the 95% with a bad resume. Because if you're in the other 5%, you will dramatically increase your chances of success.
The secret to resume success is simple - forget everything you thought you knew about resume writing and focus on one thing: communicating your unique value.
There are lots of creative ways to do this, and I share them all in the course. It doesn't matter which of the options you choose - as long as you are focused on communicating what makes you uniquely valuable to your target employers, your resume will get results.
Imagine a manager at your dream company opening your resume and instantly seeing your value. Imagine how it would feel to get a call for that dream job just a few days after you submitted your resume.
Sound impossible?
Far from it. If you learn to communicate your unique value, you are learning to press recruiters' buttons, so that they can't help but call you in for an interview.
It's not magic - just common sense - but it sure feels like it when that phone starts ringing!
You'll be taken to a secure payment page. After you've made the payment of $49, you'll be taken right to the download page where you can download the resume writing course, 20+ resume templates and 2 free bonuses.
Good question! If you're like me, you surf the web for information when you have a problem. That's probably how you landed on this page.
But when it comes to resume writing, there are so many options all screaming for your attention - how do you know who to trust?.
There are professional resume writers like me, who are advertising their services for hundreds of dollars. (Some of these writers are wonderful, but if you were willing to pay that much, I don't think you'd be surfing the web for information).



There are free resume builder systems claiming you can have a great resume in minutes. (This is like promising you can lose 10 lbs in one day – it's nonsense! You can't create a great resume in 10 minutes and a fancy system doesn't change the fact that you need to write great content).



There are free information sites that are really just affiliate marketing sites. They pepper links throughout the copy and hope to make money when you click on one. (The content for these sites is usually sub-par – it's written to attract search engines, not to help you with your resume).



There are sites offering free resume samples but no explanation of how to use them effectively. (Seeing a nice sample resume does nothing to help you develop a sales message that will generate interviews and job offers for you).



And worst of all, there are agencies who will charge unsuspecting job seekers thousands of dollars for help that's worth next to nothing. (If you see a site like this and want to know if it's legit, shoot me an email at "info at blueskyresumes dotcom." I know every one of these scam artists and I'd be happy to take a look).
Not one of these options is giving you what you need - an easy-to-follow proven system for transforming your resume.
Disreputable agencies who charge thousands of dollars for job search help make me angry! They are are the reason I finally decided to share my resume writing secrets.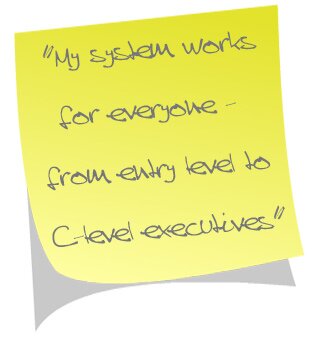 I'll be honest, developing a traiing program is hard and I put it off for a few years. But over a period of a few months, I met several job seekers who had been ripped off by so-called "professionals" claiming to have resume secrets to share. In truth, they knew nothing more than I know – usually much less – and I wouldn't dream of charging those prices.
Yes, there are secrets to writing a great resume. Yes, if you know those secrets you will get more interviews and better job offers. But are those secrets worth $8,000? (that's what one of my clients was charged by a 'job finding agency')
I don't think so. I don't think you should have to be rich to get a great job.
So I finally knuckled down and put my resume writing system on paper, with detailed instructions and tons of real world examples that will take you all the way from blank page to job interview.
It took me almost a year to write because I wanted to be sure I covered everything.
The system I outline in this course is the same one I teach the writers who work for me. It's a system I developed based on my 15+ years as an HR executive and it's the system I use to help hundreds of job seekers every year.
The complete system is only $49.
I used to hoard my knowledge. After all, people pay me hundreds, sometimes thousands, of dollars to help them find a new job. I'm one of an elite group of resume writers who is well known and respected enough to charge top dollar for my services.
(If you want to check me out, just google 'Louise Fletcher" + resume or "Blue Sky Resumes" – you'll find plenty of information. You have to add the "+ resume" otherwise you'll just find lots of articles about the actress who played Nurse Ratchett in One Flew Over the Cuckoo's Nest!)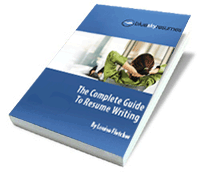 So why tell you my secrets for a fraction of my consulting fee?
Because my company has reached the size I'm happy with. I don't have ambitions to run a big corporation. We have a small team of writers and one assistant and I don't have to work crazy hours to keep things running smoothly. Without expanding further, we can't take on more clients than we already handle.
So developing this self-study course has allowed me to help many more people than I can take on as clients, and increase my revenue without working crazy hours. Everyone wins. (Except the job seekers who'll be competing against you for a job!)
As you follow the course, you'll learn:
The secret ingredient that will bring your resume to life and dramatically boost the response rate to your resume, even if you change nothing else.


The insider's technique used by professional resume writers to provide proof that you are the right choice.


How to identify the one sales message that will show employers exactly why you are the employee they need.


The common resume mistakes that prevent other people from getting interviews and how to avoid them.


The devastating blunder many people make right at the start of their resume – this one change alone will increase the number of interviews you are invited to.


Two strategic techniques to maximize the effectiveness of your resume, turning it into an eye-catching document that communicates your unique value.


The design mistakes that makes up to 30% of resumes almost unreadable on certain computers – and how you can ensure that everyone sees your resume just as you intended it.


The key question you MUST answer in your resume - addressing this one question will dramatically increase your response rate.


Formatting devices and simple language refinements that improve your response rate by as much as 30%, 40% -- even 50% or more.
The course is a downloadable PDF file, so you can have instant access to this great information for just $49.
All of this with a 100% no hassle, money-back guarantee.
If you don't think the course has helped you to write a better resume, just let me know and I'll refund your money in full. No questions asked.

Have questions?

A Word of Warning

Turning your resume into a recruiter magnet isn't as easy as waving a magic wand. I'm not going to tell you that all you need to do is buy my course and half an hour later you'll have a new life.

Rewriting your resume will take a day or two. You'll need some time to digest the principles I outline and then you'll need to work on each section of your resume to polish it as much as possible.

It's a little work and if you're not willing to put in a few hours of effort you should walk away now because the course won't work for you.

But I'm going to explain everything you need to know and give you lots of real-world examples, so if you're willing to invest some time and a little effort, I guarantee you'll see great results ...like these readers: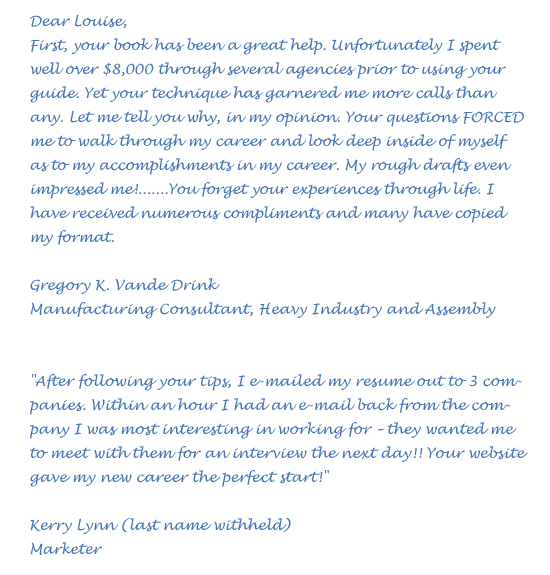 You'll get detailed instruction and examples every step of the way

I put a lot of thought into making this course as complete as possible. I wanted to make sure that everything was covered and that you'd have all the tools you needed for success.

That's why I give you more than the resume writing lessons. Here's what you'll get when you order:
174-page PDF self-study course, "The DIY Guide to Writing a Killer Resume"features detailed instructions on creating your value proposition, writing action-packed bullet points and developing compelling job descriptions. The course also includes 25 "real world" resume samples - everything from entry-level to executive resumes so that you can get ideas and inspiration for your own resume.
20 Unique Microsoft Word Resume Templates - I designed each of these templates and you can simply type over the information with your own details so that you don't have to worry about design or formatting.
My "Quick Guide to Writing Cover Letters That Sell" – a free 12-page guide to writing exceptional cover letters that perfectly complement your resume.
The "Job Search Strategies for Success" eBook – This guide to job search will help you get the most from your new resume. This book shows you how to reach recruiters and hiring managers directly, how to access the hidden jobs market, and how to distinguish yourself from your competitors.

That's everything you need to create a killer resume, craft a cover letter that sells and develop a proactive job search strategy that generates results.


President, Blue Sky Resumes

PS: If the course isn't exactly what you were hoping for, no worries. Just let me know and I'll issue a full refund. No questions asked.

If you'd like a taste of what's in the course without committing to buy, sign up for my free mini course – you could be learning some of my inside secrets in just minutes.